Urgent Care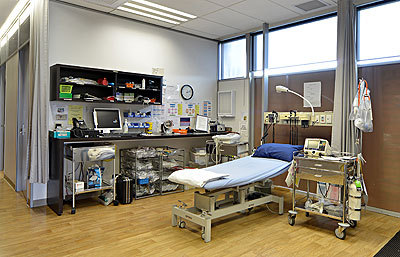 As well as being an Albany based GP family medical clinic, we have a fully accredited Urgent Care facility where our clinicians are ready to manage acute sickness, accidents and injuries. This is available 12 hours a day 7 days a week with no appointment necessary.
We have a fully equipped urgent treatment area from which we can arrange rapid ambulance transport to hospital if required.
If you sustain a fracture we can Xray on site, apply a plaster cast and arrange follow-up at our specialist fracture clinics.
Wheelchairs are available for use on site should you require one. Crutches are available for hire if advised by the doctor.
The NZ Accident Compensation Corporation (ACC) provides no-fault personal injury cover for all New Zealand residents and visitors. This insurance cover is comprehensive but does not meet the full costs of primary injury management so an ACC surcharge applies. For further information, please click here and refer to the question about ACC surcharge.
Please note that for children under 13 years of age the Urgent Care service will now attract a small fee after 5pm weekdays and all weekends and public holidays. To access general practice consultations for children, please book into our Childrens Clinic or an appointment with their regular GP. Click here for further information.
---
13-17 yrs
| Urgent Care Services 8am-5pm weekdays* | Enrolled | Not Enrolled | ACC | Non NZ |
| --- | --- | --- | --- | --- |
| Urgent Care - No appointment | $57.00 | $70.00 | $42.00 | $145.00 |
| Discounted rate for CSC /HUC | $52.00 | $65.00 | $42.00 | $145.00 |
| GP 24 hour review (for same condition) | $28.50 | $35.00 | $21.00 | $72.50 |
| Fracture Initial Management | - | - | $42.00 | - |
| Fracture Clinic Follow up | - | - | FREE | - |
| Urgent Care Services 5pm-8pm weekdays, 8am-8pm weekends & public holidays* | Enrolled | Not Enrolled | ACC | Non NZ |
| --- | --- | --- | --- | --- |
| Urgent Care - No appointment | $72.00 | $75.00 | $52.00** | $155.00 |
| Discounted rate for CSC /HUC | $67.00 | $70.00 | $52.00** | $155.00 |
| GP 24 hour review (for same condition) | $36.00 | $38.00 | $26.00 | $77.50 |
| Fracture Initial Management | - | - | $52.00** | - |
* A $15 surcharge applies for visits on Public Holidays - Extra charges may apply for high cost consumables and equipment hire
** A $10 surcharge applies to ACC visits after 5pm & on weekends/public holidays
18-24 yrs
| Urgent Care Services 8am-5pm weekdays* | Enrolled | Not Enrolled | ACC | Non NZ |
| --- | --- | --- | --- | --- |
| Urgent Care - No appointment | $67.00 | $90.00 | $46.00 | $145.00 |
| Discounted rate for CSC /HUC | $62.00 | $85.00 | $46.00 | $145.00 |
| GP 24 hour review (for same condition) | $33.50 | $45.00 | $23.00 | $72.50 |
| Fracture Initial Management | - | - | $46.00 | - |
| Fracture Clinic Follow up | - | - | FREE | - |
| Urgent Care Services 5pm-8pm weekdays, 8am-8pm weekends & public holidays* | Enrolled | Not Enrolled | ACC | Non NZ |
| --- | --- | --- | --- | --- |
| Urgent Care - No appointment | $82.00 | $95.00 | $56.00** | $155.00 |
| Discounted rate for CSC /HUC | $77.00 | $90.00 | $56.00** | $155.00 |
| GP 24 hour review (for same condition) | $41.00 | $47.50 | $28.00 | $77.50 |
| Fracture Initial Management | - | - | $56.00** | - |
* A $15 surcharge applies for visits on Public Holidays - Extra charges may apply for high cost consumables and equipment hire
** A $10 surcharge applies to ACC visits after 5pm & on weekends/public holidays
65 yrs and over
| Urgent Care Services 8am-5pm weekdays* | Enrolled | Not Enrolled | ACC | Non NZ |
| --- | --- | --- | --- | --- |
| Urgent Care - No appointment | $73.00 | $90.00 | $46.00 | $145.00 |
| Discounted rate for CSC /HUC | $68.00 | $85.00 | $46.00 | $145.00 |
| GP 24 hour review (for same condition) | $36.50 | $45.00 | $23.00 | $72.50 |
| Fracture Initial Management | - | - | $46.00 | - |
| Fracture Clinic Follow up | - | - | FREE | - |
| Urgent Care Services 5pm-8pm weekdays, 8am-8pm weekends & public holidays* | Enrolled | Not Enrolled | ACC | Non NZ |
| --- | --- | --- | --- | --- |
| Urgent Care - No appointment | $88.00 | $95.00 | $56.00** | $155.00 |
| Discounted rate for CSC /HUC | $83.00 | $90.00 | $56.00** | $155.00 |
| GP 24 hour review (for same condition) | $44.00 | $47.50 | $28.00 | $77.50 |
| Fracture Initial Management | - | - | $56.00** | - |
* A $15 surcharge applies for visits on Public Holidays - Extra charges may apply for high cost consumables and equipment hire
** A $10 surcharge applies to ACC visits after 5pm & on weekends/public holidays
25-64 yrs
| Urgent Care Services 8am-5pm weekdays* | Enrolled | Not Enrolled | ACC | Non NZ |
| --- | --- | --- | --- | --- |
| Urgent Care - No appointment | $74.00 | $90.00 | $46.00 | $145.00 |
| Discounted rate for CSC /HUC | $69.00 | $85.00 | $46.00 | $145.00 |
| GP 24 hour review (for same condition) | $37.00 | $45.00 | $23.00 | $72.50 |
| Fracture Initial Management | - | - | $46.00 | - |
| Fracture Clinic Follow up | - | - | FREE | - |
| Urgent Care Services 5pm-8pm weekdays, 8am-8pm weekends & public holidays* | Enrolled | Not Enrolled | ACC | Non NZ |
| --- | --- | --- | --- | --- |
| Urgent Care - No appointment | $89.00 | $95.00 | $56.00** | $155.00 |
| Discounted rate for CSC /HUC | $84.00 | $90.00 | $56.00** | $155.00 |
| GP 24 hour review (for same condition) | $44.50 | $47.50 | $28.00 | $77.50 |
| Fracture Initial Management | - | - | $56.00** | - |
* A $15 surcharge applies for visits on Public Holidays - Extra charges may apply for high cost consumables and equipment hire
** A $10 surcharge applies to ACC visits after 5pm & on weekends/public holidays
Under 13 yrs
| Urgent Care Services 8am-5pm weekdays* | Enrolled | Not Enrolled | ACC | Non NZ |
| --- | --- | --- | --- | --- |
| Urgent Care - No appointment | FREE | $47.00 | FREE | $145.00 |
| Discounted rate for CSC /HUC | FREE | $47.00 | FREE | $145.00 |
| GP 24 hour review (for same condition) | FREE | $24.00 | FREE | $72.50 |
| Fracture Initial Management | - | - | FREE | - |
| Fracture Clinic Follow up | - | - | FREE | - |
| Urgent Care Services 5pm-8pm weekdays, 8am-8pm weekends & public holidays* | Enrolled | Not Enrolled | ACC | Non NZ |
| --- | --- | --- | --- | --- |
| Urgent Care - No appointment | $15.00 | $49.00 | FREE | $155.00 |
| Discounted rate for CSC /HUC | $15.00 | $49.00 | FREE | $155.00 |
| GP 24 hour review (for same condition) | $7.50 | $25.00 | FREE | $77.50 |
| Fracture Initial Management | - | - | FREE | - |
* A $15 surcharge applies for visits on Public Holidays - Extra charges may apply for high cost consumables and equipment hire