Katherine Williams
Finance & Administration Manager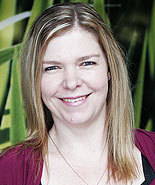 Katherine Williams has been a chartered accountant for the past 22 years and has held many roles over that time comprising both accounting and human resources responsibilities. She completed her degree in Business Studies in 1995 and completed a Postgraduate qualification in Human Resources in 2016.
At Apollo Medical, Katherine is responsible for the financial reporting of the business, as well as overseeing the administration staff team. She also facilitates any marketing and technology aspects of the practice.
Having been at Apollo since the beginning of 2010, she has a strong connection with the practice's overall philosophy of helping people and providing the community with high quality healthcare.
In her spare time she enjoys the outdoors and keeping up with her two energetic sons.