Health & Disability Commissioner (HDC)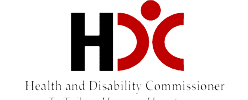 The HDC's mission is to independently upholding consumer rights by:
Promotion and protection
Resolving complaints
Service monitoring and advocacy
Education Formation of HDC
The Health and Disability Commissioner Act was enacted in October 1994. The Act created the Office of the Commissioner - with the role of promoting and protecting the rights of health and disability services consumers, and facilitating the fair, simple, speedy, and efficient resolution of complaints - with a national network of independent advocates, under the Director of Advocacy, and an independent prosecutor, the Director of Proceedings.
The Act
The Act was passed to implement the recommendations of Judge Cartwright in her 1988 Cervical Cancer Inquiry Report. Judge Cartwright stated that there was a strong need for the establishment of a Commissioner as an independent complaints resolution and educational body, and for a Code of patients' rights. The initial Bill was introduced to the House by the Minister of Health, Helen Clark, in 1990. Following the health reforms in 1993 the Bill was broadened to cover disability services and disability services consumers. The first Commissioner, Robyn Stent, was appointed in December 1994.
The Code of Health and Disability Services Consumers' Rights
The Code was made by regulations in 1996, and applies to all providers of health and disability services. The Code sets out ten rights, including the right to be treated with respect, to be free from discrimination or exploitation, to dignity and independence, to services of an appropriate standard, to give informed consent, and to complain. The complaint mechanisms under the Health and Disability Commissioner Act have become the primary vehicle for dealing with complaints about the quality of health care and disability services in New Zealand. To view the Code of Rights please click here.
Mental Health Commissioner
The Crown Entities Reform Act 2012 disestablished the Mental Health Commission as of 1 July 2012. Consequently, advocacy and monitoring functions in the mental health and addictions sector were transferred to the Health and Disability Commissioner. In addition, a new position of Mental Health Commissioner was established within the Office of the Health and Disability Commissioner.