Ministry of Health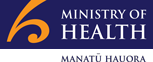 The Ministry is the government's primary agent in New Zealand's health and disability system, and has overall responsibility for the management and development of that system.
The Ministry's focus is to help ensure New Zealanders live longer, healthier and more independent lives, while delivering on the government's priorities.
The Ministry is composed of business units, each with its own functions and areas of responsibility. The business units are the National Health Board; Chief Nurse; Policy; Clinical Leadership, Protection and Regulation; Māori Health; Sector Capability and Implementation; and Corporate Services.
---
Apollo Link Directory
Viewing 1 to 5 of 10
Apollo Link Directory
Viewing 1 to 5 of 10